Happy New Year!
Another year and another update from the Wiggins-Radcliff household. We and our four kitties are finishing 2019 in good health and are looking forward to the new year.
The year started out with a bang as Rick had a total hip replacement on January 11th. He spent one night in the hospital and two weeks with home rehab. By the 28th he was back at Theatre Charlotte to help with Ain't Misbehavin'. Everyone was surprised and pleased with the speed of his recovery. He is almost a year post-surgery and the scar on his upper leg is the only reminder of pain he had been in.
Adiya and Erin drove Wynn and Lola down in February for a long weekend visit. We took the grandkids to the Cabarrus County Alpaca Show which was quite fun. While it was a short visit we always have a great time when the family is here.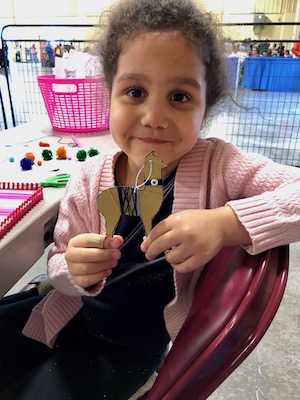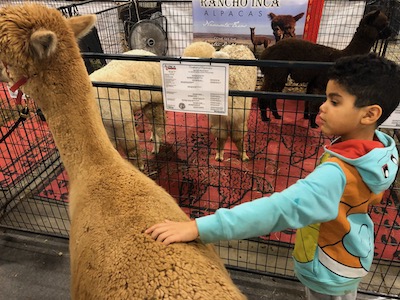 The spring took us to Cleveland for the biennial ACRL conference. ACRL is the organization that established the educational standards that our business is based on, so this conference is a big deal for us. We talked with so many people and were able to visit with friends and family while we were there. This also allowed us to stop in Columbus on the way home. We celebrated Easter early with our grandkids.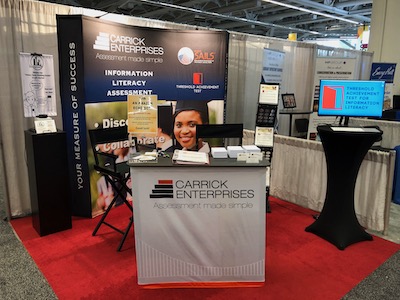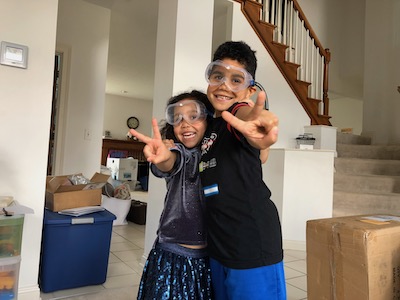 Carolyn's brother Bill came down for the opening of the Mustang Owners Museum in April. As a surprise for Carolyn, her sister Sue came along. Carolyn was indeed surprised! We enjoyed touring around Charlotte with them. Bill and Rick had a great time taking Bill's Mustang for a few laps on the Charlotte Motor Speedway track during the opening celebration. It was quite a rush to be flying down the straightaways at high speed.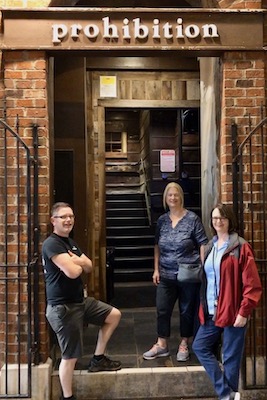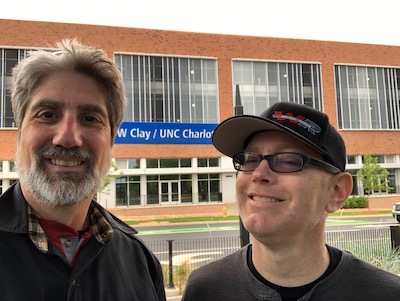 In May we made a visit to our old home in California. Carolyn found an Airbnb within walking distance of downtown Orange so we didn't even rent a car. It was really nice to see the folks that Carolyn had worked with at Chapman University and to visit with the staff at our favorite restaurant, The Filling Station. Our neighbor Ken and our friend Joanne took us for breakfast on the ocean. We also took the train to Oceanside to see our dear friends April and Hal. It was a short visit, but full of good experiences.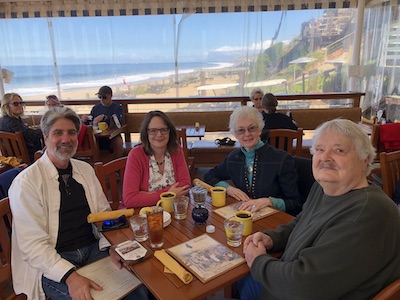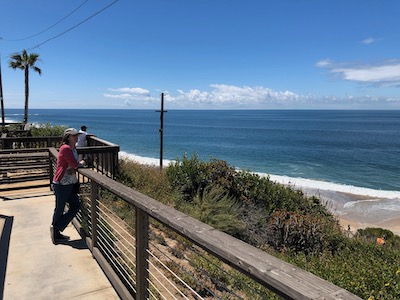 At the end of May Carolyn traveled to Ohio for her niece Ashlyn's middle school graduation. She, her sister Sue, and her brother Bill had a great time together on a trip to Marblehead and Kelley's Island.
In June Theatre Charlotte put on The Producers with its signature song Springtime for Hitler. It's a crazy show and Rick very much enjoyed helping out with it. Our good friends Elaine and Jeff and our new friends Ann and Steve were able to see the show with Carolyn.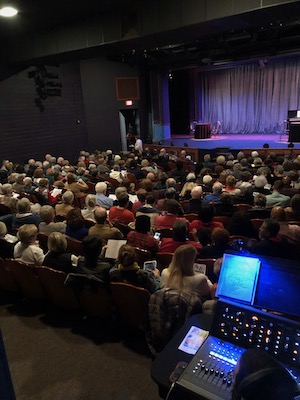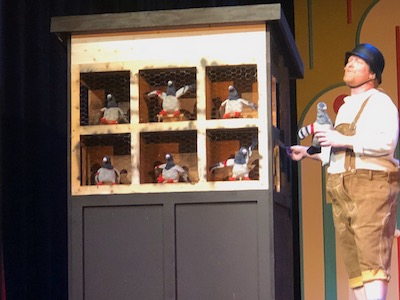 We visited Wilmington NC and the Carolina Beach State Park in June to celebrate our 13th wedding anniversary. Since Rick's hip was healed we were able to do several hikes. Being on the water we saw lots of shore birds. We also spotted something we had never heard of: a Fox Squirrel (see photo).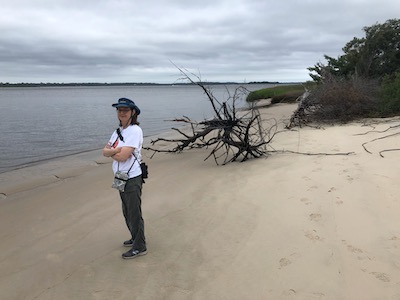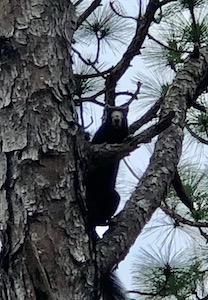 Since we had completed the development of our new business product in 2018 and Carolyn had finished overseeing its rollout, she decided it was time to get back into academia. At the beginning of July she started as the Director of the Everett Library at Queens University of Charlotte. Queens is a small liberal arts school and she has a small staff but the people are all wonderful and she has been enjoying working there for the past six months.
As a consequence of Carolyn going back to work, we didn't do as much traveling as we had planned. We squeezed in another visit with our grandkids at the end of June. Their new trampoline was a big hit.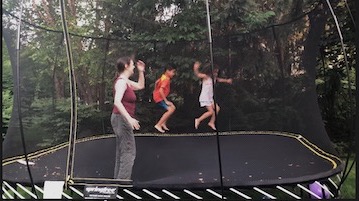 Rick made two solo trips to Ohio to see friends and family. Our friends Dave and Mary provided wonderful lodging at their new condo for both trips. During the July trip Rick was able to meet up with his longtime friend and mentor Gayle who brought his vintage corvette to lunch. Rick was also able to help celebrate Erin's birthday. A repeat trip in October allowed Rick to get to know Adiya's sister and nephew, Kamilah and Solomon, who moved to Columbus in July, better.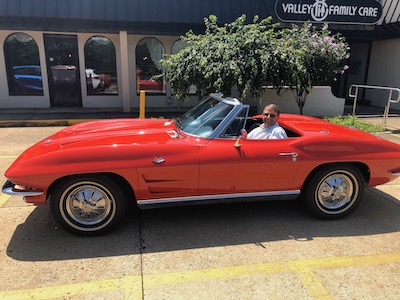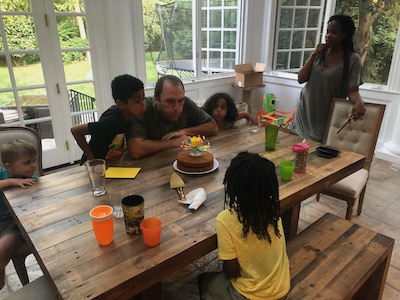 In September we visited Myrtle Beach SC and the Huntington Beach State Park. Carolyn lived in Myrtle Beach right after college and it was great to drive around to some of the places she knew including the hotel where she worked. The wildlife in the park was amazing and we really enjoyed several short hikes.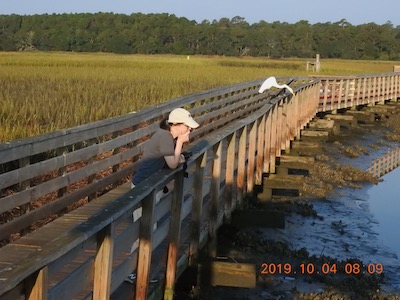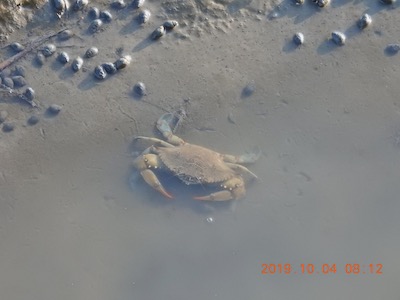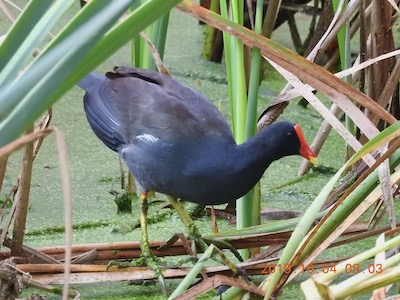 Carolyn spent Christmas week in Ohio with her sister Sue and brother-in-law Ron. She joined a family Christmas at the home of niece Amanda and Amanda's husband Tony. She and her Sue made a trip to Columbus to visit the family and see what the grandkids got for Christmas.
With Carolyn working full-time, Rick has increased his time at Theatre Charlotte. The people there have been very thankful for the additional support and he has made several friends among the casts and crews. He will be taking on more responsibility during 2020.
We started a new adventure this year by participating in the Kindred Hearts Transport Connection. This group sets up long-range transports of dogs, often from over-crowded shelters in one place to specialty shelters in another. We made five trips with sweet and cute dogs, driving the leg from Charlotte to Greensboro.
We invite you to visit us here in Charlotte. If your travels take you to or through the Charlotte area, please let us know. We'd love for you to stay with us and let us show you around town. Otherwise, we're always up for a FaceTime, Skype, or old-fashioned phone call to catch up. Let's stay connected.
We hope that 2020 will be a great year for you!
Carolyn, Rick, Cassie, Leo, Remy, and Romy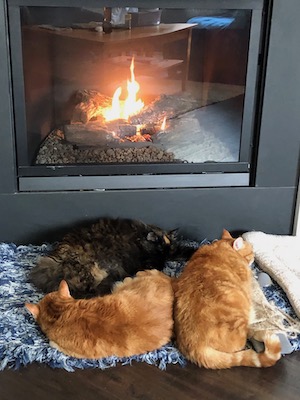 (Leo was sleeping elsewhere.)